UPDATE: Thanks to the new Client Management & Mod Management options in the new August patch, customizing the client became even easier!


Full Client links
:
http://toygamers.forumotion.com/t345-pokemmo-installation-tutorial
Client & Theme Customization
Spoiler:

(Must Read):

https://forums.pokemmo.eu/index.php?/forum/33-client-customization/Instructions for background pictures (login):

1. Open the spoiler and save the background were you want. Rename the picture as " bg ".

2. Find your PokeMMO folder.

3. Travel to data -> themes -> default -> res.

4. Replace the current background with the one you just downloaded.

5. Run PokeMMO and enjoy.

Instructions for Themes

1. Unzip Theme folder into PokeMMO -> data -> themes directory.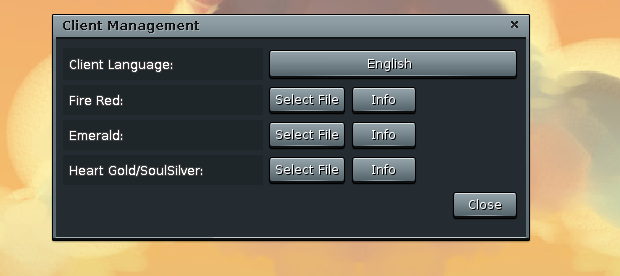 If you would like to choose a modded rom
:
Spoiler:


Choose the modded firered rom you would like under Modded Roms Directory.
Selection choices here are:
- Ikarus v1.5 Graphics Patch Only
- Ikarus v1.5 + Moemon v1.5 Stable version
- Ikarus v2.4 + Moemon v1.7 Beta
- PKMN Spare Clean Roms (Backup roms)
- Scribblemon v1.8
- default roms (emerald, fire red, HG, SS)

Once you select your favorite FireRed mod, hit ok, and relaunch your client!
Enjoy!

More about the roms included:

Spoiler:
Customizing Sounds

Last edited by Admin_Bear on Thu Mar 29, 2018 1:46 am; edited 24 times in total
_________________
[Founder & Leader of SexyToys since 2006]
"Perception Is Reality" -- Casey, UNT 08
SexyToys Productions
|
Report Center
PSN MrBearToy88 | XBL MrBearToy
 3DS FC is 5000-5549-3233
Wii U FC is ParanormalBear
Similar topics
---
Permissions in this forum:
You
cannot
reply to topics in this forum